You can browse listings below to find a Chair Caning Repair Pros, Chair Caners or Seatweaving Experts in New Hampshire near you. If there are no current caners listed, please go back to the National Furniture Repair Directory™ (FRD) homepage where you can search nearby states for your repair pro.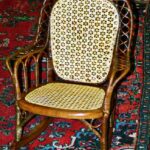 75 Lincoln Ave, Lisbon, NH 03585, USA
Lost Arts Chair Caning, located in Lisbon, New Hampshire, performs expert restoration of chair seats: hand caning in standard and fancy patterns, pressed web caning, porch rockers, binder cane, pierced fiberboard chair seats, embossed leather seats, splint weaving in a variety of patterns, hickory bark seats, Shaker tape, and wicker repair.
A price estimate will be given after physical evaluation. Structural repairs are available if needed, and will be included in the estimate of work to be done. We provide free pickup and delivery in a 10-mile radius.
After completion of repairs, all chairs are given a courtesy cleaning, waxing and minor joint tightening before returning to the happy client.
(4/1/22)