You can browse listings below to find a Chair Caning Repair Expert or Seatweaving Pro in Missouri near you. If there are no current chair caning repair experts listed, please go back to the National Furniture Repair Directory™ (FRD) Homepage where you can search other categories and nearby states.
211 3rd Street, Glasgow, MO 65254, USA
Diana, owner of Sit-A-While Seat Weaving has over 30+ years experience offering custom chair seat replacement using cane, splint, fibre rush, Shaker tape and seagrass. Pick-up available within a 75-mile radius.
Diana travels throughout Missouri demonstrating at events and also offers weekend classes. Stay at local B & Bs in the historic community overlooking the Missouri River.
Charter and Cottage Member of The SeatWeavers' Guild, Inc. ®.
(1/01/24)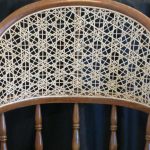 Bonnots Mill, MO 65016, USA
Step-In-Time-Antiques is a home-based business specializing in hole-to-hole chair caning, pressed/machine/spline cane, and binder cane in various patterns (e.g. herringbone, New England Porch Weave, Finger Lakes Fan Weave, etc.), paper fiber rush and Shaker tape weaving.
Will do some minor structural repair. Free estimates and local pickup/delivery. Good rates!
Charter Member of The SeatWeavers' Guild, Inc.®
(SUB 1/21/24)