You can browse listings below to find Chair Caning Repair Experts or Seatweaving Pros in Michigan near you. If there are no current caners listed, please go back to the National Furniture Repair Directory™ (FRD) homepage where you can search other categories and nearby states for your repair pro.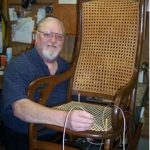 4366 W. Holt Road, Holt, MI 48842
D-Bear's Furniture and Cane Restoration, located in Holt, Michigan has provided quality chair caning services in the greater Lansing area since 1987. Specializing in woven seat and back replacement of cane, fiber rush and other styles of chair seat weaving patterns.  We also offer general wooden chair repairs. 
Our business motto is, "Quality work, fair prices, and timely return." I have worked with all types of materials and I am sure I can fix your seat, too! Call or email today for an appointment.
(7/01/19)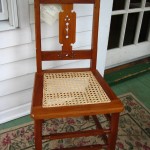 5650 Cade Street, Haslett, MI 48840, USA
Back Porch Caning is a cottage industry specializing in chair seat weaving, located in Haslett, Michigan near Lansing with over 30 years experience in restoring woven chair seats.
I replace most seat patterns and weaves including hard to find specialty weaves, using original type of material and design. I offer six-way hole cane, sheet or pressed cane, fiber rush, natural rush, and wheat wrapped rush, Danish cord and Danish binder seats, porch weaves such as binder cane and reed in basket weave, or herringbone, seagrass, and Shaker tape.
Charter & Cottage Member of The SeatWeavers' Guild, Inc.®
(8/01/18)