You can browse listings below to find Chair Caning Repair Experts or Seatweaving Pros in Michigan near you. If there are no current caners listed, please go back to the National Furniture Repair Directory™ (FRD) homepage where you can search other categories and nearby states for your repair pro.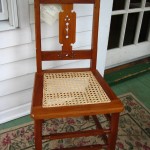 5650 Cade Street, Haslett, MI 48840, USA
Back Porch Caning is a cottage industry specializing in chair seat weaving, located in Haslett, Michigan near Lansing with over 35 years experience in restoring woven chair seats.
I replace most seat patterns and weaves including hard-to-find specialty weaves, using the original type of material and design. I offer six-way hole cane, sheet or pressed cane, fiber rush, natural rush, and wheat wrapped rush, Danish cord and Danish binder seats, porch weaves such as binder cane and reed in basketweave, or herringbone, seagrass, and Shaker tape.
Charter & Cottage Member of The SeatWeavers' Guild, Inc.®
(8/01/23)