You can browse listings below to find a Chair Caning Repair Expert or Seatweaving Pro in Louisiana near you. If there are no current chair caning repair experts listed, please go back to the National Furniture Repair Directory™ (FRD) Homepage where you can search other categories and nearby states.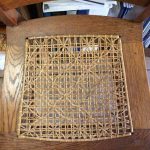 106 South Louisiana Street, Abbeville, LA, 70510, USA
Acadiana Cane and Restorations, serving Southern Louisiana with the best in cane seat restoration and other hand-woven seating since 1978. We also do French or Blind Caning. For a free estimate, text or email Jim photos of the damaged area of the seat as well as a full view of the chair.
(9/01/21)