You can browse listings below to find a Chair Caning Repair Expert, Caning Pro or Seatweaving Expert in Illinois near you. If there are no current caners listed, please go back to the National Furniture Repair Directory™ (FRD) homepage where you can search other categories and nearby states.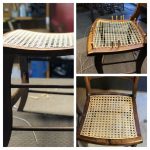 188 Park Ridge Lane, Aurora, IL, 60504 USA
Hank's Cane & Rush Restoration specializes in Hand Cane, Machine Cane Webbing, Paper Rush, Danish Cord, Shaker Tape and more. Sadly caning and rush seat weaving are fast becoming dying art forms and it is our intent not to let that happen. Each chair we see in the shop comes with a story or has a story yet to come!
Our mission at Hank's is to restore your chair or furniture piece while refreshing the memory that accompanies it! Or possibly it's a chair with memories still to unfold! Whatever you do, don't throw that chair out without talking to us first! ~ Lynn
Business and Board Member of The SeatWeavers' Guild, Inc.®
(5/1/23)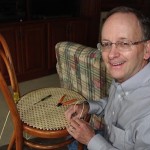 4277 Preston Street, Paris, IL 61944, USA
David W. Dick Chair Caning has performed expert cane seat weaving and restoration, serving Illinois, Indiana, and the greater Midwest, since 1975.
We weave strand cane, sometimes called lace cane, and loom-woven (pressed cane), wide binding cane, and splints. We gladly stain to match the original material and furniture. And are always more than willing to discuss your seat weaving needs including giving free estimates.
Nothing leaves our shop until it's perfect — count on it! References available upon request.
Proud Charter and Cottage Member of The SeatWeavers' Guild, Inc.® (TSWG)
(Seatweaving SUB 1/04/23)