You can browse listings below to find a Chair Caning Repair Expert in CANADA near you. If there are no current chair caning repair experts listed, please go back to the National Furniture Repair Directory™ (FRD) Homepage where you can search other categories and nearby states or provinces.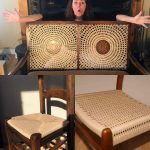 5835 Silver Ridge Drive Northwest, Calgary, AB, Canada
Seat Weaving While RVing– Cane (Rattan), Danish Cord, Fibre Rush Seat Weaving by Caning Canada
My husband David and I are living in our RV full time proving seat weaving services local to the areas we are exploring. As a second-generation seat weaver, I have been weaving chairs since 1986. Quality workmanship, at a fair price, in a timely manner. That's what I do, with a skip in my step and a smile on my face.
We are booking projects in Calgary until the end of 2019 and in the Vancouver area November 2019 to mid-April 2020. We are planning on being in Nova Scotia from May 2020 to October 2020 with plans to make stops in the Toronto and Montreal areas on our way East and back West.
(11/1/20)