You can browse listings below to find a Chair Caning Repair Expert in California near you. If there are no current chair caning repair experts listed, please go back to the National Furniture Repair Directory™ (FRD) Homepage where you can search other categories and nearby states.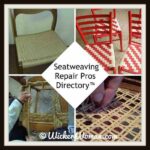 926 Gilman Street, Berkeley, CA 94710, USA
Chair Caning, Splint, Rush, Danish Cord, Rawhide, Rattan and Wicker Repair are the specialties of The Caning Shop Restoration since 1969. Chair caning and basketry classes are available, too.
Jim Widess, owner of The Caning Shop in Berkeley, CA sells chair caning and basketry supplies and is the author of two best-selling weaving books: The Caner's Handbook and The Complete Guide to Chair Caning.
Honorary Lifetime Member–The SeatWeavers' Guild, Inc.®
(11/01/23)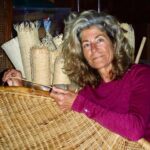 At Kinghan of Kalifornia we are a three-generation family business with nearly forty years of restoration experience.
Our specialty being all types of seat weaving, chair repair, restoration and upholstery.
"I love what I do and get great satisfaction giving a new life to a loved piece of furniture."
"After all this time, I still get wicker or cane pieces that I've never seen before and I love a challenge."
Free estimates, local deliveries, by appointment. Offering mobile services and on-site restoration.
We're in collaboration with other local craftsmen full restoration services are available.
Charter & Cottage Member of The SeatWeavers' Guild, Inc.®
(2/01/23)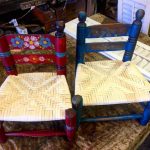 8665 Mission Gorge Road, Santee, CA 92071, USA
Antiques by Futura–Founded by John and Carol Bessone in 1992, is now operated by son Robert and daughter Regina. Boasting a 10,000 square foot showroom full of Antique and Vintage furniture and decor that we've been collecting for well over 30 years and have available for purchase.
We also have a full-service repair and refinishing shop with a complete seat weaving room to take care of your chair caning needs. We do Cane, Rush, Danish cord, Rattan Wicker, and Upholstery repair as well as Refinishing and Restoring Furniture of all types. Local pick-up and delivery are also available.
Call or email today for your chair caning, upholstery or refinishing job appointment. When you come for that appointment, be sure to peruse the antique furniture in the showroom, you'll be glad you did!
(2/01/23)