Tax Saving Strategies for the Self-Employed or How to Shelter Thousands of Dollars of Home Business Profits from Self-Employment and Federal Taxes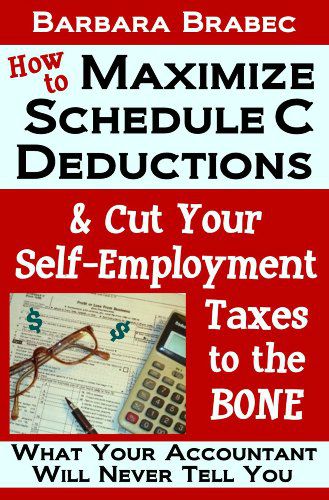 Naperville, IL, November 8, 2008 – Barbara Brabec's latest ebook, Secrets to Maximizing Schedule C Deductions: Proven Strategies for Cutting SE Taxes to the Bone, offers a crash course in how to save a bundle on taxes and become a more educated and savvy taxpayer.
"If you operate a business from home and file a Schedule C form, there are many things you can do right now to lower the amount of self-employment, federal and state taxes you will have to pay on this year's business profits," says Barbara Brabec, author of Homemade Money and seven other books for home-business owners. Her new ebook, Secrets to Maximizing Schedule C Deductions, includes the proven strategies she has used for more than thirty-five years to cut her self-employment taxes to the bone.
Brabec, self-employed for most of her life, has been helping home-business owners to greater financial success since the early 70s. "It's not how much you earn in your business, but how much you can keep . . . away from the IRS," she emphasizes. "Your goal should be to get as many deductions as possible listed on your Schedule C form to keep your self-employment taxes as low as possible. This will also lower the amount of federal and state taxes you will have to pay."
Taxes and Saving Money
The topic of taxes is considered boring by many, but saving money isn't a boring topic, and this book isn't boring, either. "It's humorous, entertaining and chock full of tax tips and information to help you improve your bottom line," says Bill Ronay, Events2000.com. It's also a crash course in how to save a bundle on self-employment taxes and become a more educated and savvy taxpayer.
"Accountants rarely (if ever) remind business owners about deductions they might be overlooking or tax strategies they might implement," says Brabec. "They just work with the figures they are given. That's why it's so important for business owners to make sure they haven't overlooked any deductions, and that they understand how different tax strategies can lower their taxes overall."
Schedule C Deductions
Included in Secrets to Maximizing Schedule C Deductions is a checklist of 65 Schedule C deductions (with discussions on most of them), plus detailed information on eleven categories of indirect and direct expenses related to the Home Office Deduction (one so many business owners are reluctant to take for fear of an IRS audit). But this is not what's likely to trigger an audit, says Brabec.
Emphasis is also given to the tax benefits of hiring a spouse or child to help with the business, as well as to the tax dangers of hiring independent contractors (especially to craft businesses who may be using homeworkers to produce goods for sale). More tax-safe options for hiring outside help are suggested in this chapter.
Special Tax Highlights and Features
Tucked here and there throughout this helpful book are two dozen special tips on such things as why you should think twice before making your spouse a partner in your business instead of an employee; why married women who use a different name for their business may be losing Social Security credits by filing a joint return with their husband; and why selecting the wrong auto expense method in the beginning can be a costly mistake.
Closing the book is a Resource Chapter that includes links to tax-related websites and articles, each offering additional information on specific tax deductions or strategies discussed in the book.
This 62-page PDF ebook (updated yearly) is available for instant download on the author's website at http://www.barbarabrabec.com/
While you're there, be sure to check all the craft and business articles she's written over the years and the biographies, memoirs, and "life living" books, too!