Self-employed and need help with income taxes?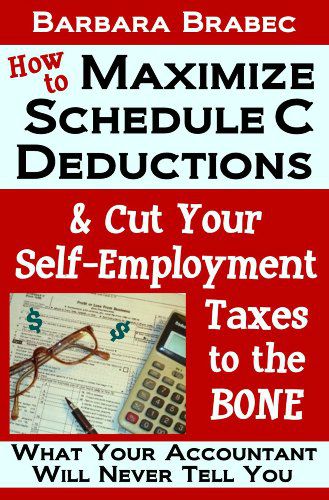 Are you a self-employed home-based business person with maybe a chair caning, basket weaving or woodworking business? Do you hate losing money because of the tax burden? Are you confused about what you can take as deductions to cut the cost of that tax burden? Then you need craft writer and home-based business expert Barbara Brabec's ebook, How to Maximize Schedule C Deductions & Cut Your Self-Employment Taxes to the Bone!
---
This page may contain affiliate links since WickerWoman.com is a participant in the Amazon Services LLC Associates Program, an affiliate advertising program designed to provide a means for sites to earn advertising fees by advertising and linking to Amazon.com. When you make a purchase through one of these links, I receive a small compensation without any extra cost to you.
---
First offered last year, now with an update for tax year 2008, covering just about everything you ever needed to know about filing your Schedule C — Federal Income Taxes. Barbara lists all the legal tax deductions that you and I might miss, which is costing us lots of money. That old saying, "What you don't know won't hurt you" really doesn't apply here!
Take all the legally allowed tax deductions that you deserve and fill out your Schedule C with confidence! Even if you don't file your own taxes, you'll need to take all the receipts to a preparer.
If you have a bookkeeper, accountant, or CPA file your taxes every year, they most likely will not tell you what you can and cannot deduct. So, armed with Barbara's help and advice guidebook, you'll know just how to save yourself time and effort collecting, saving and filing all the actual business deduction receipts that your preparer will need to fill in the tax form.
Save yourself some dough on your 2008 income taxes and every year thereafter. Click on the banner link below and order your Kindle copy today! Barbara vows to update the ebook every year to keep us all current!